Wednesday, May 30, 2012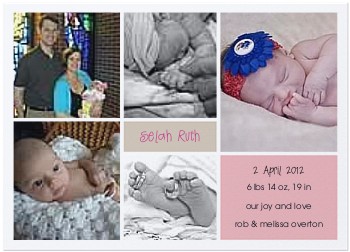 Sweet Moments Girl Baby Announcements

Wednesday, May 2, 2012
mommy's big girl!
I can hardly believe that one month ago we welcomed Selah to our family. And what a month it has been! this momma picked out a "few" pictures. Selah adds commentary.
April 2, 2012 I was born. I weighed 6 lbs 14 oz and was 19 inches tall.
mom and dad were pretty excited, but also very exhausted. I took my time!
my first family picture with grandparents hambleton
my first family picture with grandparents overton
Uncle Josh and Aunt Rachel. Uncle Josh just can't get over my cuteness!
Aunt Carrie came over on her lunch break to meet me!
I finally got cleaned up. I HATE sponge baths, but, like my mom, I love to get my hair washed. Nurse Heather showed my Dad how to give me a bath. And Dad got to show Mom!
We cheered on the jayhawks in the NCAA championship basketball game. I cried all night because they lost!
April 3rd- The day after my birthday is my mom's birthday! She turned 29.
I got her a cake!
The birthday flowers are from Grandma and Grandpa H, and the vase of flowers is from David and Jayme. those flowers were for ME. I was a great baby on mom's birthday, I slept in the nursery until I was hungry, then the nurses brought me to my mom. I think she slept, too!
me and my mom after some quality nursing time. She's the best!
dad, Nurse Heather, me, Nurse Jessica, and mom. Our nurses were super!!!
We headed home on Wednesday, April 4th. I really like riding in my carseat, it's so cozy.
April 7th- this is my first bath at home. I screamed...I don't like sponge baths!


This is Easter Sunday! We went for lunch at G&G O, and the whole family was there. Mom is sad because she didn't think to get a combined family picture until Monday.
I got to meet my great-grandma Overton. Congrats on the promotion!
Me and Aunt Kristin. She was in town from NYC. Maybe someday she'll teach me how to play ultimate frisbee. :)
Three Generations of Beautiful Ladies! Grandma H, Mom and Me.
This is me with my FIRST PIECE OF MAIL! If you look REALLY close, you can see that it's addressed to Selah Ruth Overton. It was my social security card. So, I'm official.
I make funny faces when I eat...
and eating is hard work. I'm full, thanks mom!
this is my doctor, Dr. Kimmel. She's also my mom's doctor. We went in on Tuesday, April 10th, for my first doctor's appointment, and I was back up to birth weight! Super exciting, especially for mom, she was worried I wasn't eating well. I proved her W-R-O-N-G!
April 10th- the rose was an the altar at LBC on Sunday april 8th to honor my birth.


April 11th. Story-time with dad. He is reading "Die kleine Raupe Nimmersatt" which is the Very Hungry Catepillar in German. Dad's been talking to me some in German. Toll!
April 13th. me in a fluffy hooded towel after a bath. I get them once a week. I'm a pretty clean baby in general.
April 14th This is my second Photo Shoot. My mom's friend, Nikki, took my newborn pictures. She also took my mom's maternity pictures. I was being fussy, so they had to swaddle me. oops!
April 15th -Me and 'grandma betty'.
April 15th -Me and "aunt wilda"
April 20th- this is what I looked like inside mom's belly, all curled up. It was pretty comfortable in there. I especially enjoyed when she was singing or teaching music. It just puts me to sleep!
April 22nd. me going to church for the first time. Don't you just LOVE my hair bow?!
April 22nd- At LBC with Dad and Mom. I am so blessed to have such a great church family already--everyone was SOOO excited to meet me!!
April 17th- This is my first walk in the stroller! Mom LOVES her Baby Jogger City Elite stroller. Thanks, Grandparents Overton for the gear! and Thanks to Natasha for helping mom put it together.
April 23rd- I visited dad for the first time at the office. Proud papa, huh?
April 24th -Mom attended the KC Babywearing meeting to learn how to use her sling that cousin Elizabeth made for us. I don't remember much, I slept the entire time. I get all cozy in the sling, and just can't help falling asleep!
April 26th-Tummy time on the owl quilt! I like tummy time: Mom sings to me, and we listen to children's songs, and I work on using my neck muscles. I've been told I have pretty strong neck muscles for someone my age. :)
Me, Mom, and Grandma H with Grandma's cookies!
I'm glad I had a sunhat, it was so bright! Grandma and Grandpa H had fun holding me. And yes, I was getting hungry AGAIN. Notice the wet spot on Grandma's shoulder? I did that. Thanks for loving me anyways, Grandma!
April 30th-This is my lovely Nurse Annie. She weighed me at 8 lbs, 2 oz, and 21.5 inches tall. I am a growing girl!!!
these three outfits were my mom's when SHE was a baby.
May 1st- This is Grandma Jean, my mom's music boss. We told her a secret.... :)
May 2nd-me and mom. I'm a month old!
May 2nd-me and dad. I'm a month old!
Posted by

Melissa
at 6:47 PM
No comments: